December 6, 2010 | Written by Dusty Dean
---
eMarketer, an Internet market research company, has revised their online ad spending projections for 2011. Their latest estimates suggest a 10.5% increase next year.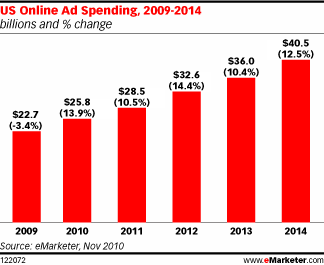 Their forecasts predict double-digit growth (in the 10-14% range) for the next four years. In 2014, they predict online advertising will reach $40.5 billion.
eMarketer's forecast corresponds well with former Morgan Stanley technology analyst Mary Meeker's recent presentation about the 50 billion dollar global online advertising opportunity.
Additionally, the Interactive Advertising Bureau (IAB) sponsored Internet Advertising Revenue Report recorded Q3 2010 as the highest quarter on record for Internet advertising spend with $6.4 billion dollars spent.
At BitCadet, we continue to see more companies becoming attracted to the ROI and advanced targeting features of online advertising, and expect this trend to continue beyond eMarketer's four year forecast.
Source: Online Ad Spend Continues Double-Digit Growth (eMarketer)
December 6, 2010 | Written by Dusty Dean
---