December 2, 2010 | Written by Dusty Dean
---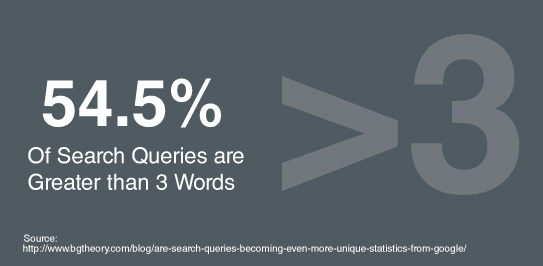 Imagine sitting in a room with friends and someone asks "What time do the Miami Dolphins play tonight?" Each person pulls out their device of choice, a phone, laptop or sits down at the desktop computer, all ready to search online.
It's likely that no two friends will use the same search query. Some may search for "miami dolphins schedule", while others search for "miami dolphins", and someone may simply type the question, "what time do the miami dolphins play?"
According to internal Google search data published in May, 54.5% of search queries are greater than three words and 20% of daily search queries are new – or haven't been seen in the past six months.
This data underscores the importance of long tail search queries and is very useful for those optimizing websites for search engine marketing campaigns.
We've seen similar increases from our own search query performance reports and search terms analysis in Web analytics.
Companies that focus on producing unique search engine optimized content that is relevant to their customers (through blogs, whitepapers, tutorials, guides and more) may see significant increases in organic search engine traffic from longer tail search queries.
This type of optimization can give smaller brands a powerful way of outperforming their larger more well-known competitors.
December 2, 2010 | Written by Dusty Dean
---