November 19, 2010 | Written by Dusty Dean
---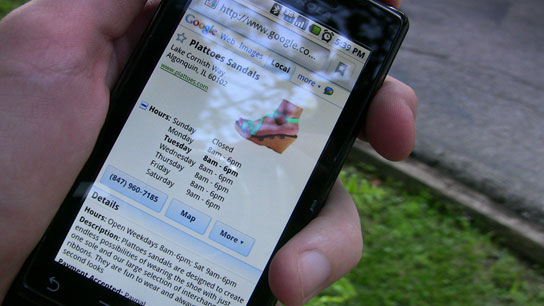 Your mobile phone is blurring the lines between online and offline buying channels.
The converging of these two channels is creating demand for new advertising targeting tools. As expected, Google is leading the way in this space.
Susan Wojcicki is Google's Vice President of Product Management and her presentation at the Web 2.0 Summit was full of interesting statistics about consumer buying channels along with innovative Google solutions to this convergence.
According to Forrester Research, 46% of consumers research products online before they decide to purchase. Review websites, comparison shopping websites along with company product pages help consumers research and verify before they make their buying decision.
It gets more interesting when you discover that only 7% make their purchase online. Consumers are visiting the Web first then heading out to the bricks and mortar.
Google has seen a 30x increase in mobile shopping queries over the last three years. 1
Being mobile, and making a mobile shopping search query, suggests strong intent to locate, visit and purchase a product.
The following list illustrates some of the solutions Google is offering advertisers adapting to this convergence.
Local Inventory Availability

A recently launched feature of Google Product Search that displays local inventory of a user's product search query . Google has partnered with 70 retail brands to offer this service.

Additionally, you may see a phone number associated with the local inventory product search, so you can phone and verify the item's availability.

This is a great way to get people out the door and in the stores buying products.

Hyperlocal Location Extensions

Google has long offered location extensions to AdWords ads. Location extensions are a great tool for targeting ads to specific geographic areas.

Hyperlocal is a new function in location extensions that allows searchers to see your business's distance from them. Since most phones are GPS-enabled, searchers are served highly relevant location-based ads.

This visual distance cue in the ad helps connects the searcher with the nearest business relevant to their search query.

Google Goggles

A recently launched experiment with limited partners that uses the Google Goggles application with scannable print ads.

It's marketed as "unlock this ad", and when a user scans the ad with their mobile phone, the company's mobile website opens with additional interactive features, promotions and more.

Additionally, consumers can use the Google Goggles application to scan products such as books in a store to instantly receive a list of online reviews and product descriptions on their mobile phones.

Click-to-Call Ads

One of our favorite AdWords features is the click-to-call feature. Users performing mobile search queries will see an ad that has a phone number associated with it.

Mobile searchers can click the ad to instantly start a phone call with the business.

Mobile searchers are on-the-move so being able to phone a business immediately is very helpful.
We're excited about these new ways of targeting consumers on-the-go and bridging the online and offline channels.
It will be interesting to observe the upcoming innovations from Microsoft's adCenter and Facebook Ads.
Video: You can watch Susan Wojcicki's entire presentation below:
[youtube width="544″ height="344″]http://www.youtube.com/watch?v=_VCDjOmDk-g[/youtube]
Notes:
As stated by Google's Susan Wojcicki during "The Perfect Ad" presentation at the Web 2.0 Summit .
November 19, 2010 | Written by Dusty Dean
---