January 11, 2011 | Written by Dusty Dean
---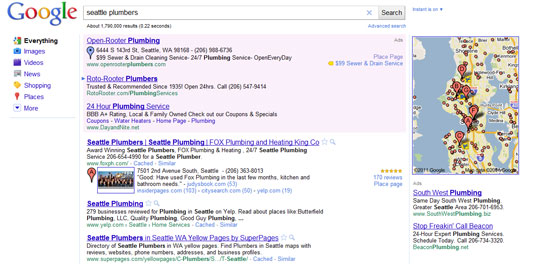 The past decade of incredible search engine innovation, both in speed and relevancy, has created a culture where people believe they can find almost anything by simply querying a search engine.
Today search engine use is second only to e-mail as the most popular online activity across all generations. And now, we're discovering that a growing trend of people are using search engines to make local queries.
We now know that over 20% of Google searches are related to location and that 53% of Bing mobile searches are related to location.
The strong sales of GPS-enabled smartphones are causing an increase in location related search queries. People are using smartphones and search engines to give them fast, relevant information while they're out shopping.
Is your local business, organization or franchise well-positioned to take advantage of this fast growing local search opportunity?
How does local search work?
Have you ever searched for something and been surprised to see a local advertisement or business appear in your search results?
This didn't happen by accident. There are many seemingly instantaneous processes that occur in the background while you perform a search.
Search engines use three methods to determine whether to display local search results to your search query.
Query Parsing

Search engines analyze your search term to determine if you've typed a city or region in your query. This is sometimes referred to as a geographic modifier.

Example: A query for "chicago florist" may display only organic listings and paid listings from florists located in the city of Chicago.

IP Address

Search engines will attempt to discover a searcher's general location using their IP address. An IP address is a unique number assigned by Internet Service Providers (ISPs) to each computer connected to the Internet.

Example: A query for "pizza" with a Nashville IP address may display local pizza restaurants in Nashville.

GPS

GPS-enabled smartphones users who have opted into sharing their location data may soon begin seeing hyperlocal search engine paid results related to their precise longitude and latitude.

Example: A smartphone user who has opted into location sharing searches for a locksmith from a parking lot near Hartsfield-Jackson Atlanta International Airport. A paid click-to-call search engine listing appears for a locksmith located less than 1 mile away from the airport.
Who needs local search engine marketing?
The short answer is any individual, business or organization that seeks customers or clients from specific geographic areas, such as cities, towns and regions.
The precipitous demise of the effectiveness of phone book ads, local newspaper ads and classifieds over the past decade has left many local businesses seeking a more effective marketing channel.
The following list is an example of the types of businesses who would benefit from local search engine marketing.
Local Businesses

The proverbial mom-and-pop businesses often benefit the most from local search marketing. These include businesses such as restaurants, specialty shops and coffee shops.

Additionally, service based businesses and professional services such as medical services, law services and home improvement services can also benefit from the lead generation power of local search engine marketing.

Local Franchises

Local franchises of larger companies often face competition from rival companies or rival stores from within their franchise. These businesses can benefit from local search engine marketing, especially hyperlocal extensions and advanced targeting.

Local Organizations

Local schools, non-profit organizations and government websites benefit from offering fast and easy access to accurate timely information. Local search marketing can help elevate these organizations to the top of search results page and increase access to essential local information.
Despite the incredible ROI benefits of local search engine marketing, a 2008 Microsoft survey found that 73% of small business owners say they are so intimidated by search marketing that they would rather do their taxes than create a search marketing plan.
Many efforts have been made by both Google and Bing since 2008 to appeal to local business owners and to create simpler, more streamlined solutions for local search engine marketing.
How are local search engine results displayed?
Since Google maintains a 70% US search engine market share we will use them to illustrate and explain the anatomy of a local search engine results page.
The most recent iteration of Google's local search engine results is called Place Search. There are three primary components to these new local search result pages.
Paid Listings

These are listings that have been purchased using Google's AdWords advertising platform. Businesses make a list of keywords that are profitable to their business and these ads only appear will when someone searches for those keywords. Businesses only pay when someone clicks on the ad.

Map of Businesses

A map of your local search results will appear on the far right panel of the page. This map contains lettered red marker pins that correspond with the businesses in the organic listings. Additionally, this map will "hover" down the page as you scroll. This map is intended to give location context to your search results.

Organic Listings

These are the organic (aka natural or free) listings that have been collected, analyzed and ranked using Google's secret proprietary algorithm. There are a number of known and unknown factors that go into the order of these rankings. The known ranking factors are used by search engine optimizers to help businesses increase their rankings.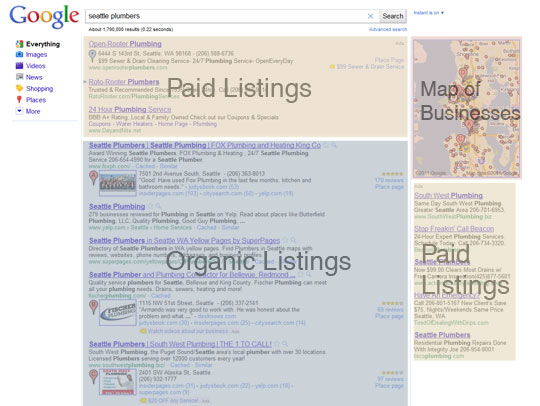 Breakdown of Organic Listing
There have been many interesting changes made to local search organic listings. These changes are intended to give searchers useful information (image, reviews, address, number) in just a few lines of text.
Many of these changes have serious implications for business owners because search engine listings are often the first time potential customers are exposed to their business.
The following image and list is a breakdown of the components of an organic local search engine listing.

Title

This is the title tag that appears on your website's homepage. Google uses it to display on the first line of your organic listing. You can learn more about title tags and how to optimize for them by reading our post on search engines and title tags.

Description

Google often uses the meta description tag you have on your website's homepage to describe the content of your website. You can learn more about meta description tags and how to use them by reading our post on search engines and meta description tags.

Clustered Links

In an attempt to give searchers more information about local businesses Google pulls data from third-party review websites (such as Yelp, Citysearch, Judy's Book, Insider Pages and more) and provides them as links beneath individual organic listings.

Image

Google displays the image you've uploaded for your Google Place page for your local organic search results. This underscores the importance of claiming, verifying and curating information on your business's Google Place page.

Place Page & Reviews

You'll notice to the far right of the local search organic listing there is a place for displaying five-star reviews and a link displaying the number of reviews. This link will take the searcher to the business's Google Place page.
How can I take control of my rankings and listings?
There are two primary approaches to taking control and impacting the way your business is listed in local search engine results. The two approaches are paid search engine listings (aka PPC) and search engine optimization (aka SEO).
Paid Search Engine Listings
AdWords Pay-per-Click (PPC) Ads
AdWords is the primary revenue source for Google. Businesses can quickly reach the top of crucial search engine results pages by bidding on keywords that are profitable to their business. Businesses will only pay when someone clicks on their ads.
AdWords is highly effective for both large and small businesses and offers the reach, relevancy and return-on-investment needed for successful marketing campaigns. Business should consider consulting a search engine marketing professional to assist them in their keyword research and campaign setup.
Ad Extensions
Ad extensions expand standard AdWords text ads with one or more lines that provide useful information such as an address, phone number and product images.
Location Extension

Location extensions are an excellent targeting tool for local businesses who want to advertise to people searching near their business.

Phone Extension

Phone extensions are also known as click-to-call ads. These ads only appear on mobile phones with full Internet browsers (e.g. iPhone & Android).

Product Extension

Product extensions allow merchants to highlight their products directly in Google search ads. These extensions are only available to merchants who have a Google Merchant Center account.

Seller Rating Extension

Seller ratings help searchers choose highly rated merchants by displaying review information below the search based ads. These star ratings are collected by Google from websites all around the Web.
Google Place Tags
Google Place Tags allow businesses to highlight a unique value about their business within the organic local search results. Businesses pay a flat monthly fee to Google and their organic local search results will have a small tag associated with them. You can add tags that include photos, videos, coupons, menu, reservations page or even posts for your business.
Google Boost Ads
Often times it can be time consuming and challenging for local businesses to setup and manage an AdWords account. Google recognizes this challenge and has created a test market for a new type of ad called Google Boost Ads.
Google Boost Ads are designed so that business owners can quickly and easily setup and manage ads from their Google Places page.
Search Engine Optimization
Search engine optimization for local search engine results is an attractive long term strategy for increasing your website's ranking for keywords profitable to your business without having to constantly spend money on advertising.
It's essential that website owners follow a set of well-known best practices for making their website's content easily accesible by both search engine robots that index the Web and to human searchers who are looking for their business.
All business owners should immediately claim and verify their free Google Place listings today. Google's recent aggressive focus on these Place Pages elevates the importance of this new platform.
Ranking Factors to Consider
Proximity of Business to City Center
Associating listings with Proper Categories
Product/service keyword in business listing title
Customer reviews
Product/service keyword in listing description
January 11, 2011 | Written by Dusty Dean
---