February 1, 2012 | Written by Dusty Dean
---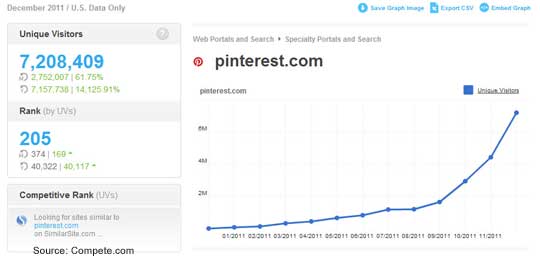 Every week of 2012 I've had clients and prospective clients inquire about buying advertising on Pinterest. Alas, as of today's date I must tell them it's not possible.
Pinterest is in "community building mode" whereas they focus solely on acquiring subscribers and scaling their infrastructure. This means their primary near-term focus is not generating revenue.
Once Pinterest's internal metrics, perhaps active subscribers or new subscribers, begin to exhibit slow growth then they'll hopefully begin implementing monetization strategies.
Although, as you can tell from the above Compete screenshot, Pinterest's viral growth is still continuing with a positive upward trend in traffic. 1
If Pinterest does decide to begin testing new revenue-models then I suggest they consider the following two recommendations:
Sponsored pins are the ideal solution for creating a seamless user experience. Advertisers would simply bid against each other using a self-serve advertising platform for in-grid placements on category pages that are highly relevant to their sponsored pin.
For example, a local business owner who sells wedding flowers can market her sponsored wedding bouquet pin on the Pinterest category of wedding flowers. Furthermore, adding more layers of relevancy, she can choose to only target those who live with an [x] mile radius of their floral shop.
These sponsored pins would appear in-grid with all other user submitted themes. Pinterest's design team can add a subtle border or icon to the sponsored pin to make their users aware that it is an advertisement.
An affiliate linking strategy involves changing outbound links on Pinterest's website to direct to a third-party product page where the visitor can buy products relevant to the pin they just clicked.
For example, a Pinterest user clicks on a coffee cup link that contains a coffee maker and is directed to an Amazon product page for that coffee maker. If the user chooses to purchase that coffee maker, then Pinterest receives commission from the sale.
Affiliate links don't require any overt changes to the visual style of Pinterest.com; however, they do create a rather jarring user experience when a user clicks a link and expects to visit site (a) and is instead directed to site (b), the affiliate website.
Many users feel cheated when they're being covertly redirected to an affiliate website. It's always a wise decision to make your affiliate linking program as transparent as possible to your users.
Both of the above recommendations are worth testing. Pinterest should reach out to top-tier branding agencies and have them join a pilot program to test the above monetization approaches.
Who knows? Perhaps in a few months I'll be able to tell clients we've been given the "greenlight" for investing in the Pinterest advertising platform.
Notes:
Source: Compete.com
February 1, 2012 | Written by Dusty Dean
---