February 26, 2011 | Written by Dusty Dean
---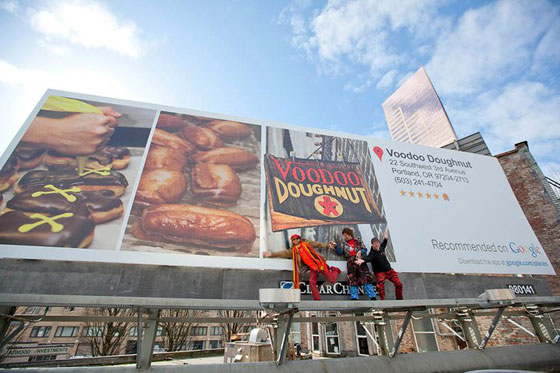 Smartphone adoption in the US is near 30% and rising fast. 1 These GPS-enabled phones with full Web browsers allow companies like Google to return highly localized search engine results.
Mobile searchers want fast, relevant information about local businesses and it's Google's job to make certain their results contain fresh and relevant information.
Searchers want to know where the nearest store is located, whether it's open or not and see relevant reviews of the business.
However, there's one big challenge for Google, local businesses and franchises are notorious for having non-existent or outdated websites.
Google's solution to this challenge are called "Place Pages". Place pages are free listings that local businesses can claim.
These listings provide basic information such as hours of operation, an aggregation of online customers reviews, photos of your business, business location along with the following useful marketing features.
Reach Searchers
Be found on Google.com & on Google Maps when searchers make location-based queries related to your business name & services.
Respond to Reviews
Verify your place page so you can manage your listing and your business's reputation by responding to reviews made on your page. 2
Offer Promotions
Easily & inexpensively make your Google Places listing stand out on the search results page by offering a Google Tag promotion. 3
These pages are not replacements for business websites, in fact, they are designed to provide basic information about the business, then link to the business's official page.
The following screenshot is an example of a Google Place page for the independently owned Portland-based Voodoo Doughnut shop. 4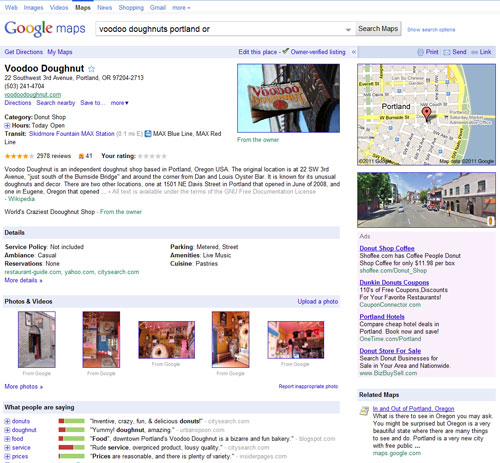 Google is aggressively promoting these pages and prominently displaying them on SERPs. You may already notice that your business's Place Page exists even though you haven't officially claimed it. Google has already created them for you and thousands of other businesses.
I strongly encourage local businesses and local franchises of nationwide brands to claim their location-specific Place Page today. It's the easiest and most effective way to promote your business and manage your business's brand with Google. Simply visit http://google.com/places to get started today.
Photo Credit: Voodoo Doughnut Facebook Page
February 26, 2011 | Written by Dusty Dean
---