November 26, 2010 | Written by Dusty Dean
---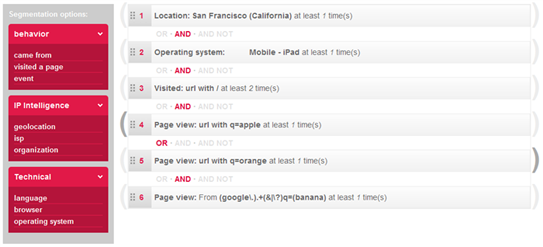 It's now easier to match website content with visitor behavior using advanced segmentation and on-site behavioral targeting.
E-commerce websites were pioneers of on-site behavioral targeting. You've likely noticed many e-commerce websites that display product recommendations tailored to your browsing habits, previous purchases along with other advanced segmentations.
On-site behavioral targeting combined with detailed Web analytics can help your company display the most relevant content to each of your website's unique visitors.
It's a powerful tool that, if used responsibly and wisely, can create a better user experience for your visitors.
Until recently, it's been difficult to find an affordable on-site behavioral targeting solution.
A Brazilian based company named BTBuckets has created a free solution to those interested in trying on-site behavioral targeting. 1
BTBuckets is a free SaaS web segmentation and behavioral targeting tool using cloud-computing to match content to user behavior.
How does it work?
You begin by tagging your targeted pages with their small JavaScript code. The recommended place for this tag is immediately following the TITLE tag on each page.
Once your pages are properly tagged you can begin familiarizing yourself with the BTBuckets system of "buckets" and "targets". Buckets and targets are always connected to each other.
Buckets are where you store and classify visitor behaviors, and targets are descriptions of the actions performed once a visitor meets the bucket criteria.
What are some examples?
The exciting part of BTBuckets and behavioral targeting is that you can create your own custom buckets and targets to meet your unique business needs.
Some of the default buckets included with the service are:
Social Media – Users who arrived on your site by clicking in a link on one of the major social websites
Returning Visitor – Users who have visited your site in the past and are returning to your site for another visit
New Visitor – Users who are visiting your website for the first time
Search – Users who arrived on your site from a search engine
How is privacy addressed?
They use first-party cookies to track users and have established a universal opt-out form for users who request to not be tracked.
Additionally, websites using this service should update their privacy policy and inform their users of the use of behavioral targeting and offer them a link to the opt-out form.
Will it integrate?
Absolutely. In fact, it integrates with AdWords, Google Analytics, Facebook, Google Website Optimizer, Twitter, OpenX, WordPress and YouTube.
Should you consider it?
It depends. We are confident that behavioral targeting strategies will become more prevalent and essential as Web marketing continues to evolve and mature.
Game changers such as Google Analytics, Google Website Optimizer and the many website optimizer start-ups continue to rapidly advance Web marketing.
However, it's important to consider where you are in your optimization and analytics strategy before adding layers of more advanced segmentation and behavioral analysis.
As always, we recommend carefully analyzing your website trends over time, do strategic A/B or multivariate testing, then finally consider behavioral targeting of your visitor segments.
Photo: Screenshot taken from BTBuckets.
November 26, 2010 | Written by Dusty Dean
---