December 7, 2010 | Written by Dusty Dean
---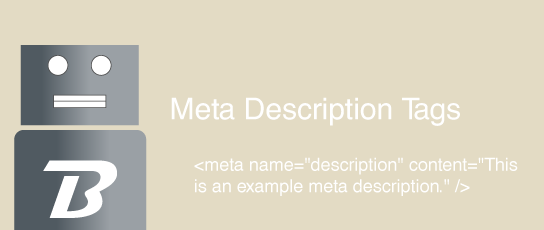 This is the second post in a series dedicated to explaining fundamentals of search engine optimization. Our focus is to help those who are new to Web marketing understand the basic fundamentals of the Web's primary customer acquisition channel – search engines.
Our previous post discussed title tags and this post focuses on meta description tags and how they're used by search engines to index and display your content online.
What are meta description tags?
Meta description tags are a short paragraph description of a Web page's content (100-200 characters). They are inserted into the head section of an HTML document and are read by search engines crawlers.
Each page on your website should have a unique meta description that accurately summarizes the content of the page. Most search engines use your meta description on their search engine results pages (SERPs).
You can easily see the meta description tags of any website that you visit by simply using your Internet browser to view the source code of the website you're viewing. 1
Here's an excerpt of our meta description tag from our homepage (https://bitcadet.com):
1

2

3

<meta name="description" content="Turning clicks into customers with

smart Web marketing and Web business solutions using search engine marketing,

Web analytics and conversion rate optimization." />
How do search engines use my meta description tags?
Meta description tags are very important to search engines. Search engines may use your meta description in their SERPs to describe the content of your Web page.
The content of your meta description appears below the title of your Web page in SERPs. The search term used by the searcher will be highlighted in bold if it appears in your meta description. Google refers to this area as the "snippet".
Here's an example of the above meta description tag as viewed in a Google SERP:

As you can see, Google has taken the contents of the meta description tag and used it verbatim in the SERP.
Additionally, there may be times when the search engines create unique snippets containing the content of your Web page that is most relevant to the searcher's query.
In some cases, such as large catalog websites, it may be more effective not to add meta-descriptions, thus allowing search engines to select their own relevant snippet.
How does this benefit my business?
There are many valuable pages on your website, such as your home page, pages that lead to conversions and other pages that receive a large amount of search engine traffic.
By setting unique meta descriptions on each page, you get to impact how these pages are seen in SERPs, and this is a great opportunity for you to market your content to the eyes of searchers.
If you write compelling meta description copy, that is both relevant to your Web page and enticing to the searcher, then you increase your chances of getting more clicks and hopefully more customers.
Best Practices:
Write descriptions that are relevant to your page's content
Create compelling descriptions; think of it as short ad copy for your web page's content
Carefully place keywords in the description so they will appear in bold for relevant queries
Work with your Web developer to make sure your meta description tags are editable
Avoid these Bad Practices:
Using descriptions that are not relevant to the page's content
Stuffing too many keywords in the description
Using a single meta description tag across all of your website's pages
Don't assume good PPC ad copy translates to good meta-description copy
December 7, 2010 | Written by Dusty Dean
---