December 2, 2010 | Written by Dusty Dean
---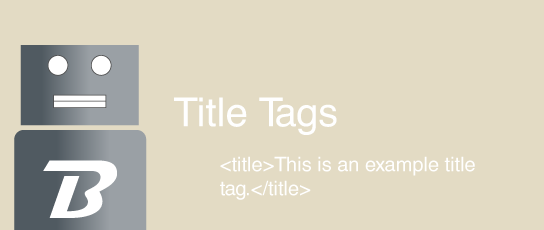 We love search engines and all of the bits of data they collect from websites across the Web.
We've decided to create a series of posts that breakdown the basic essential components of publishing content that is both user and search engine friendly.
Our focus is to help those who are new to Web marketing understand the basic fundamentals of the Web's primary customer acquisition channel – search engines.
This post focuses on title tags and how they're used by search engines to index and display your content online.
What are title tags?
Title tags inform your users and search engines of the title of your page. Each page on your website should have a unique title tag to describe its content.
The title tag for your homepage can contain the name of your website, a short description of your company, a tagline or anything you feel is relevant to the content on your website.
These tags appear in your HTML markup and proper configuration will create benefits for your readers and for those who may see your content indexed on a search engine results page (SERP).
You can easily see the title tags of any website that you visit by simply using your Internet browser to view the source code of the website you're viewing. 1
Here's an excerpt of our title tag from our homepage (https://bitcadet.com):
1

2

<title>Web Marketing, Web Analytics, Conversion

Rate Optimization - BitCadet</title>
How do search engines use my title tags?
Title tags are very important to search engines because the content of your title tag will usually appear as the first line when your page is displayed on SERPs. 2
Here's an example of the above title tag as viewed in a Google SERP:

As you can see, Google has taken the contents of the title tag and used it verbatim in the SERP. Most search engines will have the same behavior as long as the content of the title tag accurately represents the content of the webpage.
Additionally, the words in your title that match the searchers query will appear in bold, this serves as a signal to the searcher that your content is relevant to their query.
How does this benefit my business?
If you're taking the time to create good content online, content that can promote your business and increase brand awareness, then you also should make sure that it is easily indexable by search engines and understandable to your readers.
This helps increase the chances that you'll receive more visits from searchers who are searching for content related to your business and help you serve a well-coded standards compliant Web page to your readers.
Best Practices:
Choose a title that accurately explains your webpage's content
Create unique title tags for each of your website's pages
Use brief but descriptive titles, more than 65 characters will likely be cut off in SERPs
Work with your Web developer to make sure your title tags are easily editable by you
Avoid these Bad Practices:
Using default or vague titles
Stuffing irrelevant or too many keywords in your title
Duplicate titles across your website
Neglecting the readability and relevancy of your titles to your readers
Your webpage titles are great marketing tools for your business and its content. Always remember that search engines are going to index properly configured titles and this will help you reach a much wider audience.
The next post in our series will focus on the description of your webpage's content and how you can impact how it appears in SERPs.
December 2, 2010 | Written by Dusty Dean
---