November 30, 2010 | Written by Dusty Dean
---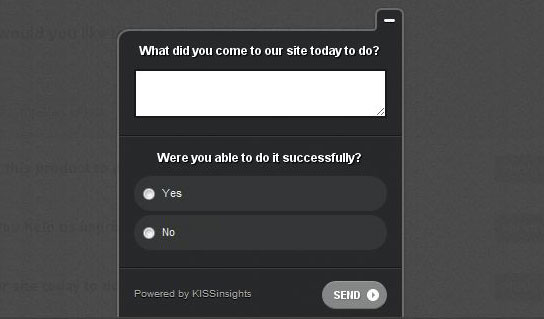 Web analytics has long been rooted in strong number-driven analysis. This goes back to the early days of processing server log files and analyzing visitor IP addresses.
We've now evolved beyond raw server logs and have adopted JavaScript tag-based solutions with well-designed dashboards, KPIs and even native pivot tables.
And even today, most standard Web analytics platforms offer ceaseless rivers of clickstream data about your website, customer behavior and traffic sources.
This endless quantitative clickstream data comes to life when Web analysts filter it and unearth actionable trends that help executives make profitable decisions.
Though quantitative Web analytics is highly effective, it leaves some critical voids in our understanding of why our customers take the actions they do online.
Fortunately, we can fill this void with excellent qualitative solutions, and actively listen to our customers while they interact with our website.
One form of qualitative voice of customers (VoC) analysis comes in the form of surveys and questionnaires places on your website.
These surveys and questionnaires are accessed site-wide or at the page-level. They can easily be added to your website by adding simple JavaScript code from your survey provider.
Additionally, many providers offer cookie base solutions that allows you to limit the number of times the survey is displayed to a unique visitor.
Some VoC survey providers are: Kiss Insights, 4Q by iPerceptions and Kampyle.
The use of qualitative (VoC) and quantitative Web analytics (clickstream) is essential to understanding the journey your customers take online and to increasing your overall website usability.
November 30, 2010 | Written by Dusty Dean
---