March 19, 2011 | Written by Dusty Dean
---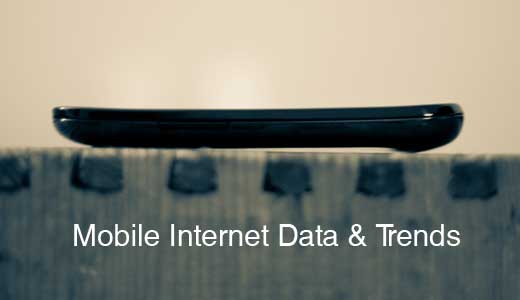 Whenever I'm searching for today's most relevant data on mobile internet trends I turn to legendary internet analyst Mary Meeker.
In February of 2011, Ms. Meeker released a new updated report on today's most important mobile internet trends. The report is a 56 slide presentation and here are few highlights that were notable to me.
Note: I've attached a footnote to each statistic referencing its source slide. Also, the full presentation is embedded below.
Desktop and laptop sales dominated by mobile phone and tablet sales

Smartphone users are very active app explorers

Facebook has seen strong growth in their mobile website users vs desktop users

Also, Facebook's mobile users are far more active than desktop users

A massive surge in global data traffic expected over the next several years

Japan's mobile sites a possible indicator of future US mobile growth

Android's growth produces incredible numbers

Apple continues to grow, but not at Android's breakneck pace
Additional Resources
If you're interested in learning more about mobile internet trends and data then check out our recent posts:
Top 10 Mobile Internet Trends (Feb 2011) Presentation
Photo Credit: Johan Larsson // CC
March 19, 2011 | Written by Dusty Dean
---